When you think of majestic hawks, you probably imagine flying in the sky and capturing things with their beaks. But have you ever stopped to wonder what these beautiful, winged creatures eat?
Does a hawk eat a dove? Yes, they do. It's no secret that hawks are one of the most vicious birds of prey, and often they prey on smaller birds like doves. More specifically, they sometimes eat meat by hunting other grain-eating birds, such as doves.
If this particular fact seems unbelievable to you, you should read on till the end of this article. Here, we are going to go over the food habits and some other surprising things about hawks. As an animal enthusiast, you'll surely be interested to know these. So, let's get started.
Do Hawks Eat Doves? In-depth Explanation 
According to 1996 research, a hawk is a bird of prey that feeds on both fresh meat and dead meat (carrion). However, the majority of the diet of hawks remains raw and living flesh from small-sized animals. Thus, it's very common to see hawks hunting down doves to eat them.
Remember that doves are a type of bird that feeds on grains, seeds, flower beads, insects, etc. Now, since the major portion of the diet of doves is grains (carbohydrates), their body is made up of soft flesh and tender tissues.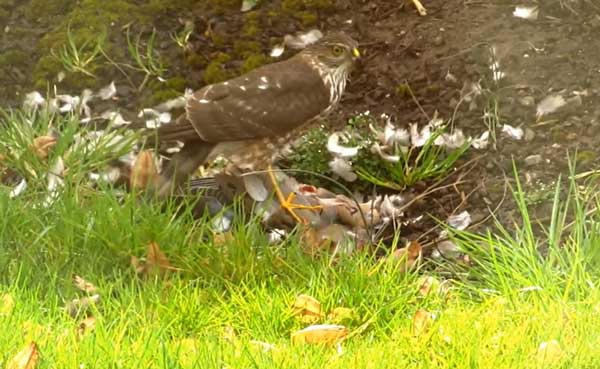 As a result, doves are the perfect food for those birds of prey that need to fulfill their daily meat intake requirement (such as hawks, eagles, and other raptors). 
So, it's crystal clear that hungry hawks will indeed hunt down any dove in sight. 
Which Hawks Eat Doves?
All species of hawks have the physical capacity to hunt down and eat doves. But, that doesn't mean that all species of hawks are interested in eating doves as part of their daily diet.
Specifically, the male members of the Cooper's Hawk species hunt down doves from urban areas. 
For instance, if you have a bird feeder in your backyard that you use to feed doves, there's a high chance that a male Cooper's Hawk will try to prey on the doves that come to eat from your bird feeder.
Furthermore, because Cooper's Hawks have adapted to living in urban areas, they can easily find Mourning Doves in City Parks, household bird feeders, etc. 
That's why if you see a hawk hunting down a dove in a human-inhabited area, it's probably a male Cooper's hawk.
Now, the reason why only male Cooper's Hawks hunt down doves is because the males are smaller in size than their female counterparts. So, medium to small-sized birds such as Mourning Doves are easy prey for the males. 
On the other hand, the females need to eat larger animals to maintain their bulkier size. For this reason, female Cooper's hawks mainly hunt larger birds other than doves (such as pigeons). 
How Do Hawks Find Food?
Most birds eat small prey, such as insects or other small animals. However, some bird species have evolved to be predators that can even eat mammals.  
And, one of the most well-known predatory birds is the hawk. Hawks are basically known for their powerful beaks and talons, which they use to catch prey. And, that's how they mainly manage food for themselves. 
Hawks look for their prey when flying high or from a high-rise building if they are in an urban area. Like most raptors, they have very good eyesight that lets them locate their prey.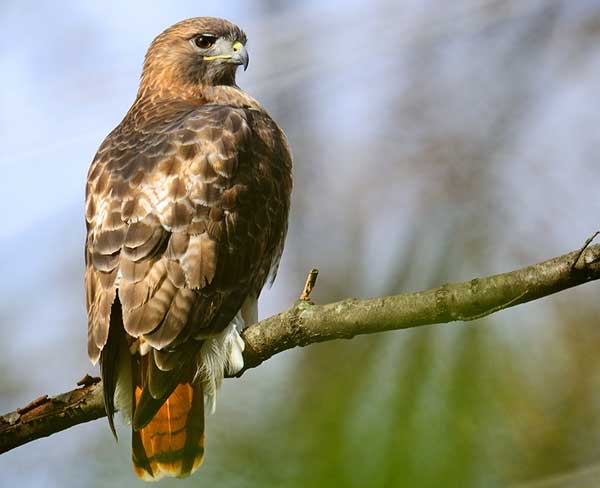 Some hawks, such as the American kestrel, take advantage of their small form factor to move around very fast. Using their speed and agility of movement, they can overcome even larger birds than themselves in pursuit and kill them. That's one of the common ways how they find food. 
How Does A Hawk Kill Dove?
Hawks are apex predators of nature. And, just like other predator raptors, they use their powerful talons and beaks to capture their prey. They also dismember their prey with their paws before swallowing it. 
Let's get to see a video on a hawk killing a dove:
Usually, hawks attack and kill doves by diving down from a high altitude and catching the unsuspecting bird in mid-air. This method of surprise kill is almost completely foolproof. That means that almost all the hunting attempts using this method remain successful by the hawks. 
Other hawks may stake out a dove's nesting spot, waiting for an opportunity to swoop in and grab their unsuspecting victim. This particular technique of attacking the nest and catching the dove off guard lets hawks hunt young doves. 
As a result, by eating the baby birds from the nest, they can easily fulfill their daily meat requirements without spending much energy. 
One of the popular theories of hawks hunting down doves is that a hawk might chase a dove over a very long distance. That, in turn, causes the bird to eventually get tired. As a result, the dove dies from asphyxiation (the paralysis of the body due to the lack of proper oxygen supply).
Other theories say that, in many cases, hawks use their paws to rip open the dove's chest and eat the meat while the bird is still alive. Or, some reports also say that the hawks peck the dove until it dies. 
Regardless of how hawks kill doves, one thing is for sure: these birds are skilled hunters. Hawks have exceptional eyesight and can see/detect the nuances of colors. 
For example, Hawks can see small animals, such as frogs, rodents, doves, pigeons, ducks, etc. from much farther away than humans can. 
Here's another video of Cooper's Hawk killing a dove at bird feeder:
Frequently asked questions:
For your convenience, we have listed down some important related questions about this topic.
1. How do I keep my bird feeder protected from hawks?
You can buy those bird feeders that have roofs to block the eyesight of hawks. Plus, you can also set up an umbrella over the bird feeder to deter the Hawks. 
2. How can I keep my pigeons/doves safe from hawks? 
We recommend that you install a fake owl or scarecrow in close vicinity of the bird feeders in your house. Hawks are somewhat afraid of human-shaped structures such as scarecrows.
Conclusion
Well, that's all there's to it, people. Now that you've got a clear understanding on this question, Do Hawks Eat Doves?
To sum it all up, Hawks are one of the most common birds in the world. They're also one of the most aggressive. So, it's not a surprise that they eat a lot of different things, including doves. 
Thank you so much for dropping in today. Peace out!!!
Do you want to know if hawks eat squirrels or raccoons? Read our articles about it to learn more.