Parakeets are one of the most loved pet birds. However, they can sometimes be picky eaters—it can take hours trying to get them to eat something new! If you have been having trouble getting your budgie to eat his veggies and fruits, you might find it useful to know whether or not he can eat peppers. 
So, can budgies eat peppers? Yes, peppers are a tasty treat and healthy snack for budgies. Unlike humans, parakeets don't have taste receptors to register spicy foods. Also, pepper is rich in vitamins and minerals, which help keep their immune system strong. 
To find out more about the health benefits and how to feed your bird, read on! I'll also highlight a few words of caution when feeding peppers to parakeets.
Can you feed pepper to budgies?
Budgies can eat peppers. Peppers are an excellent addition to the diet of your budgie. They're low in fat, cholesterol, and sodium – which is great for their health. Also, pepper provides a lot of vitamins and minerals that your bird needs to be healthy and happy.
However, peppers are not part of a balanced diet for budgies and should only be given as an occasional treat or daily snack.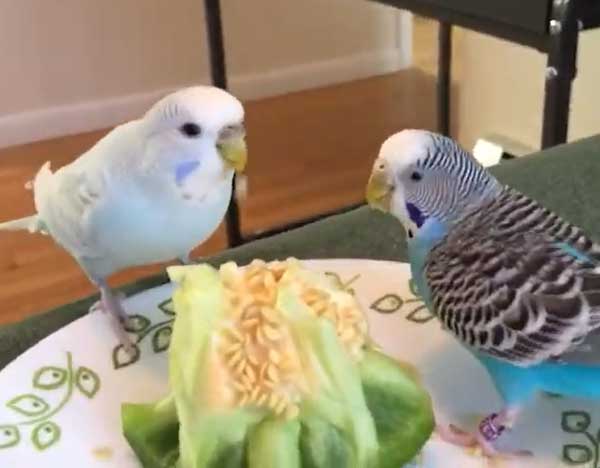 Pepper contains a chemical called capsaicin which causes an uncomfortable sensation of heat when it enters the body. Capsaicin does not affect parakeets though. They're immune to the burn of hot pepper and spicy treats. (npic.orst.edu)
While humans can only eat 10-100 ppm of capsaicin, parakeets can tolerate 20,000 ppm and more. So pepper is more of a yummy treat.
The best part? Parakeets will eat both the membrane and the heart containing the seeds. Hence, nothing goes to waste. However, ensure to remove the stems, flowers, and leaves. These three are toxic to budgies.
But don't give your budgie too many peppers. Bell peppers are rich in solanine. So, feeding your parakeets too much pepper might expose them to the poisonous compound. (sciencedirect.com)
Therefore, only give your budgie a small piece of pepper at a time to avoid tummy upset. And as with all new foods, introduce peppers to your pet bird slowly to ensure they don't have any negative reaction to them. 
A varied diet is important for your parakeet's health. In addition to peppers, offer your bird other vegetables such as broccoli, carrots, and dark leafy greens. You can also give parakeets fruit as a treat. Remove any seeds or pits before serving them to your parakeet.
Lastly, many bird owners have found that their budgies were picky about what kind of pepper they would eat. For example, some might only like red or green peppers, while others don't care. Keep an eye on your pet bird, and be prepared to give them one type of pepper at a time if they seem reluctant to try it.
Do Budgies Like Peppers?
Budgies love peppers, and it fits well into their diet. Peppers are nutritious and low in calories, making them an ideal addition to the budgie's diet.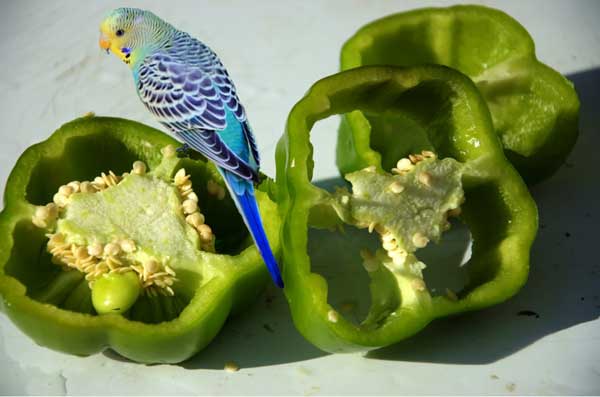 Health Benefits of Budgies Eating Peppers
Just like humans, budgies can benefit from eating peppers. Pepper is packed with essential vitamins (A, B6, and C), minerals (magnesium, iron, potassium, and manganese), and dietary fibers.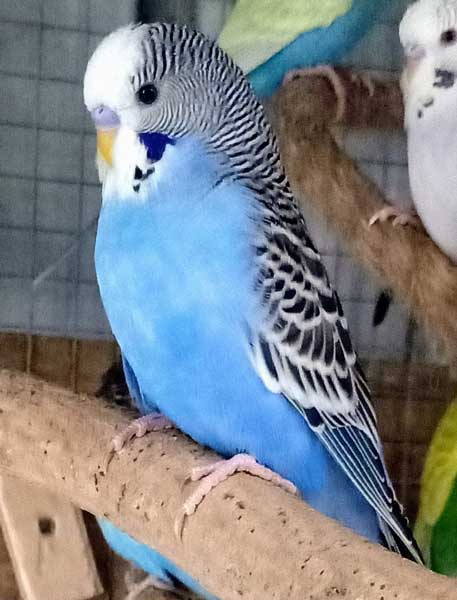 Vitamin A helps sustain proper growth.
Vitamin C is essential for your bird's immune system. Also, it helps alleviate the harmful effects of stress and high temperatures.
Pepper has a powerful antioxidant to combat common conditions, including avian flu and chronic diseases.
Capsaicin has anti-bacterial and anti-cancer properties. Also, it's a natural digestive aid.
Pepper has zero fats, which can help with weight loss.
Eating peppers is an easy way to add more vegetables to your budgie's diet.
How much pepper should budgies eat?
Too much pepper can upset your budgie's digestive health. So, it helps to control the amount of pepper you serve to your parakeet.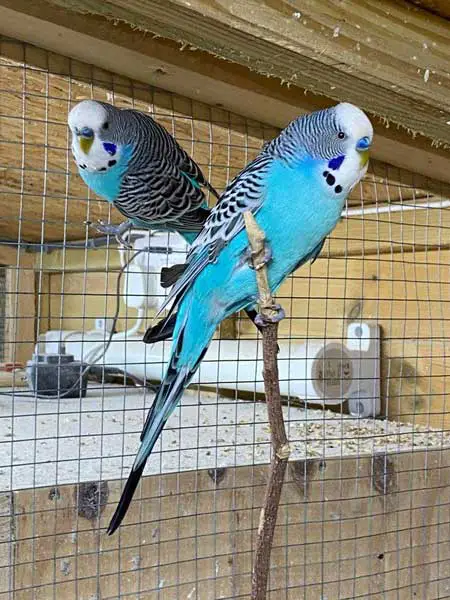 Parakeets will love pecking away at whole peppers but serve them sparingly by cutting them into slices. Generally, a thumb-nail size should be enough for a parakeet.
How do you prepare peppers for budgies?
Parakeets can eat both raw and cooked pepper. Nevertheless, raw pepper offers a higher level of nutrients and a more enjoyable experience.
Before serving pepper, ensure you clean it thoroughly. After all, you want to get rid of any germs and pesticides. If not, it can cause outbreaks of illnesses, such as Salmonella.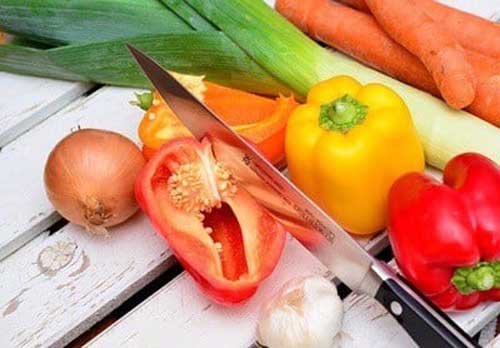 The best way to feed your parrot is to cut the pepper into thin slices. Leave the pepper seeds intact since budgies love to peck at them.  
You can mix the pepper slices with regular parakeet feed. It will ensure your parakeets get a healthy treat they can enjoy.
Can you feed peppers to baby budgies? If so, how?
Yes, chicks can eat bell peppers. However, the best choice would be the ripe ones. Red, orange, and yellow peppers are more nutritious. If baby budgies can't eat on their own, don't worry. The parent bird will peck on the pepper and feed it to the chicks.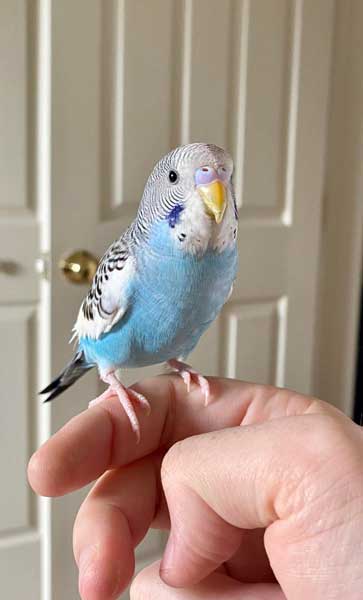 Video Of a Budgie Eating Pepper
Are all peppers safe for budgies?
All types of pepper are safe for budgies, including chili peppers. However, ripe ones are the best. They have more nutrients by weight.
There are many varieties of peppers. In fact, there are over 50,000 species worldwide, from hot and spicy chili peppers to sweet bell peppers.
Your parakeet will most likely prefer one type of pepper over the other. So test out a few different types to find out what your budgie likes best.
FAQs
There are lots of questions regarding budgies eating peppers. We will highlight and answer some of the most frequent ones.
1. Can parakeets eat jalapeno peppers?
Yes, budgies can eat all types of pepper, from the hottest pepper to the spiciest pepper. They don't suffer the spicy sensation that humans experience.
2. What nutrients do budgies get from eating pepper?
Pepper is rich in vitamin A, C, vitamin B6, fiber, and essential minerals. It's a source of calcium that promotes healthy bones. Plus, it's low in calories and sugar content, meaning you can feed it to your budgie without gaining weight.
Conclusion
In conclusion, pepper is an excellent treat for budgies. In fact, peppers are a great source of vitamins A and C for budgies. However, they should only do so in moderation. Too much pepper can cause digestive issues for your feathered friend. 
Also, be sure to remove leaves and stem first, as these can be harmful to your bird. While peppers can be a part of your budgie's diet, they should not be the only thing they eat. Incorporate fresh vegetables, fruits, and a good quality seed diet.
Do you know if your budgies can eat asparagus or mealworms? Read our articles about it to learn more.